Best-in-Class Innovation for Water System Solutions
Cal-Tech Pump specializes in providing a full spectrum of services to help you maintain an adequate supply of water for your residential property. We design and implement solutions involving various products including:
Water Treatment Solutions
Cal-Tech Pump offers free basic mineral testing, which determines a water source's hardness, alkalinity, and pH level. Additionally, we can examine the amount of iron, manganese, total dissolved solids, hydrogen sulfide, and nitrates. We utilize these tests to help us identify the issues affecting the quality of your water.
Our certification in water treatment enables us to figure out the problem and give you an estimate for treatment. If you would like to have your water tested for mineral or bacteria by a certified lab, you can count on us to provide you with referrals.
We install disinfection systems that use either chlorine or TrojanUV technology to make your water bacteria-free and safe to drink. We take care of hardness problems with ion exchange water softeners by FleckSystems. If your iron problem is leaving orange stains on clothes or causing unnatural coloration of water at home, we can use media and chemical filtration. These methods will help remove the rotten egg smell in your water.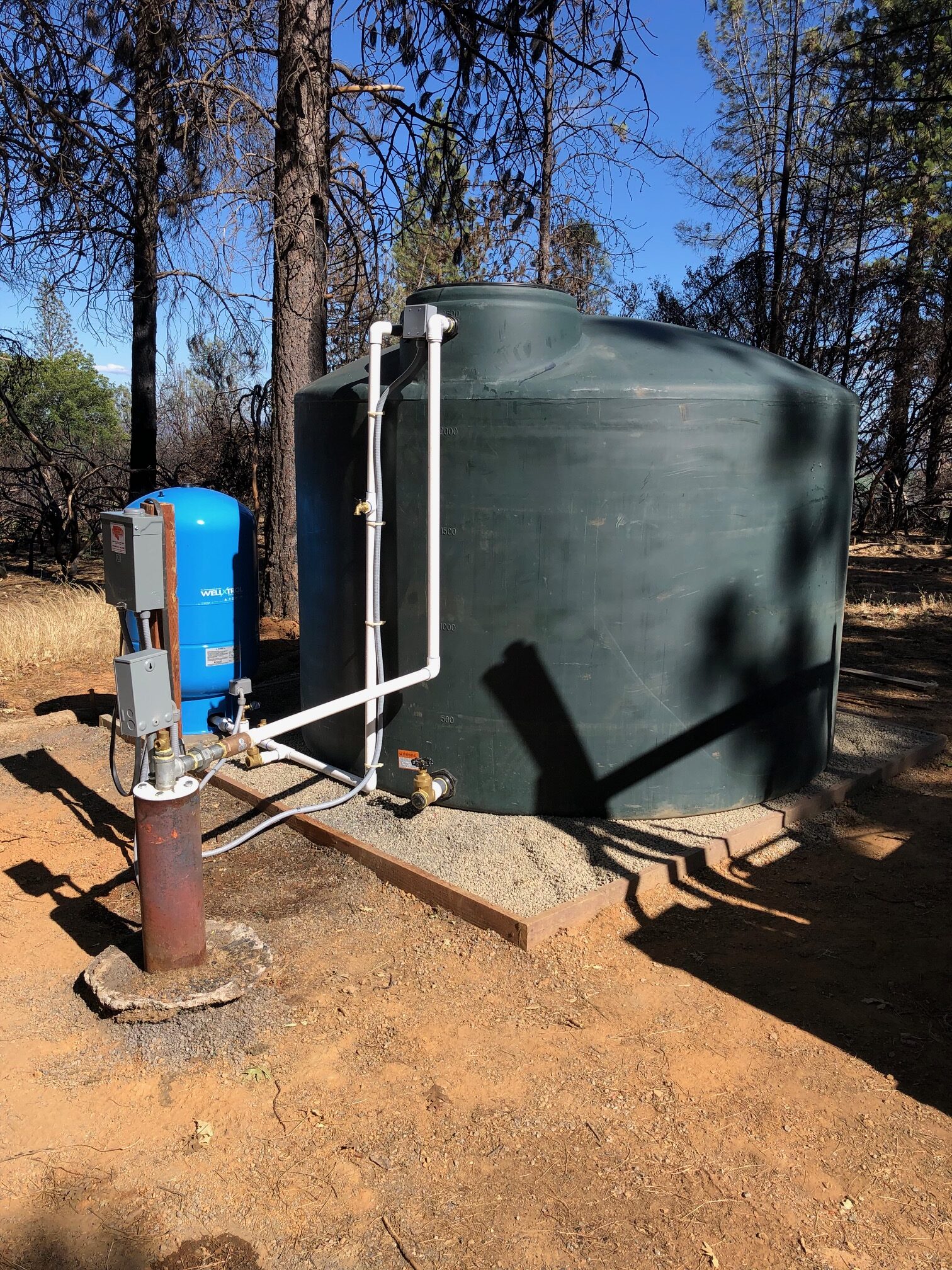 We offer various poly water storage tanks of various capacities ranging from 500 gallons to 5000 gallons. All of our tanks are green in color and have 22-inch manholes with screw-in lids on 1050-gallon to 5000-gallon tanks. The size of the manhole is a crucial detail to consider, as you may have to clean your tank after a couple of years.
By standards, our tanks come with a 2-inch bottom bulkhead fitting and a 1.5-inch top bulkhead fitting. Tanks are delivered right to your site, so you don't have to worry about how you will transport them yourself.
We always recommend that the storage tank be placed on a minimum 4-inch thick gravel or concrete pad. By doing so, you can keep your tank from settling, thus allowing you to relocate it with ease.
Whether you are upgrading your water system, adding an extra storage tank, or installing a fire-protection water storage tank, we have a poly water storage tank to meet your need! If you are interested in concrete water storage, we can refer you to a trusted contractor.
We are experts in providing all aspects of water storage system installation services! Ask us about the benefits of installing a Triple "O" Ozone system, and why it is a great complement to your new water storage system! Call Cal-Tech Pump with all of your questions regarding our water storage solutions.
Well Inspection and Production Testing
Here at Cal-Tech Pump, we perform well production testing and inspections for real estate clients, homeowners, and agricultural users. We put to work our expertise in the industry to figure out the maximum volume of water your well can produce. Aside from that, we can help you determine the quality of water through a variety of water analysis options.
Our experts will provide a test pump to clients with wells that do not have a pump system installed yet. If Pacific Gas and Electric Company (PG&E) electricity is not available to you, we can provide a generator for power and you can use our testing equipment to check how your well operates when using generator power.
When purchasing a home or property, you must consider having a well inspection completed. By going through this process, you can be sure of the quality and volume of your water supply, whether from water wells, springs, or other sources.
We are Lake County's go-to experts for well inspections and testing! Additionally, we are a trusted member of the California Groundwater Association (CGA) and an affiliate of the Lake County Association of Realtors (LCAOR). These associations trust us to perform various well inspections for their members.